Hôpital de Hautepierre 2 – Amphithéâtre AGORA
Pôle des Pathologies Digestives, Hépatiques et de la Transplantation
Avenue Molière – 67098 STRASBOURG – France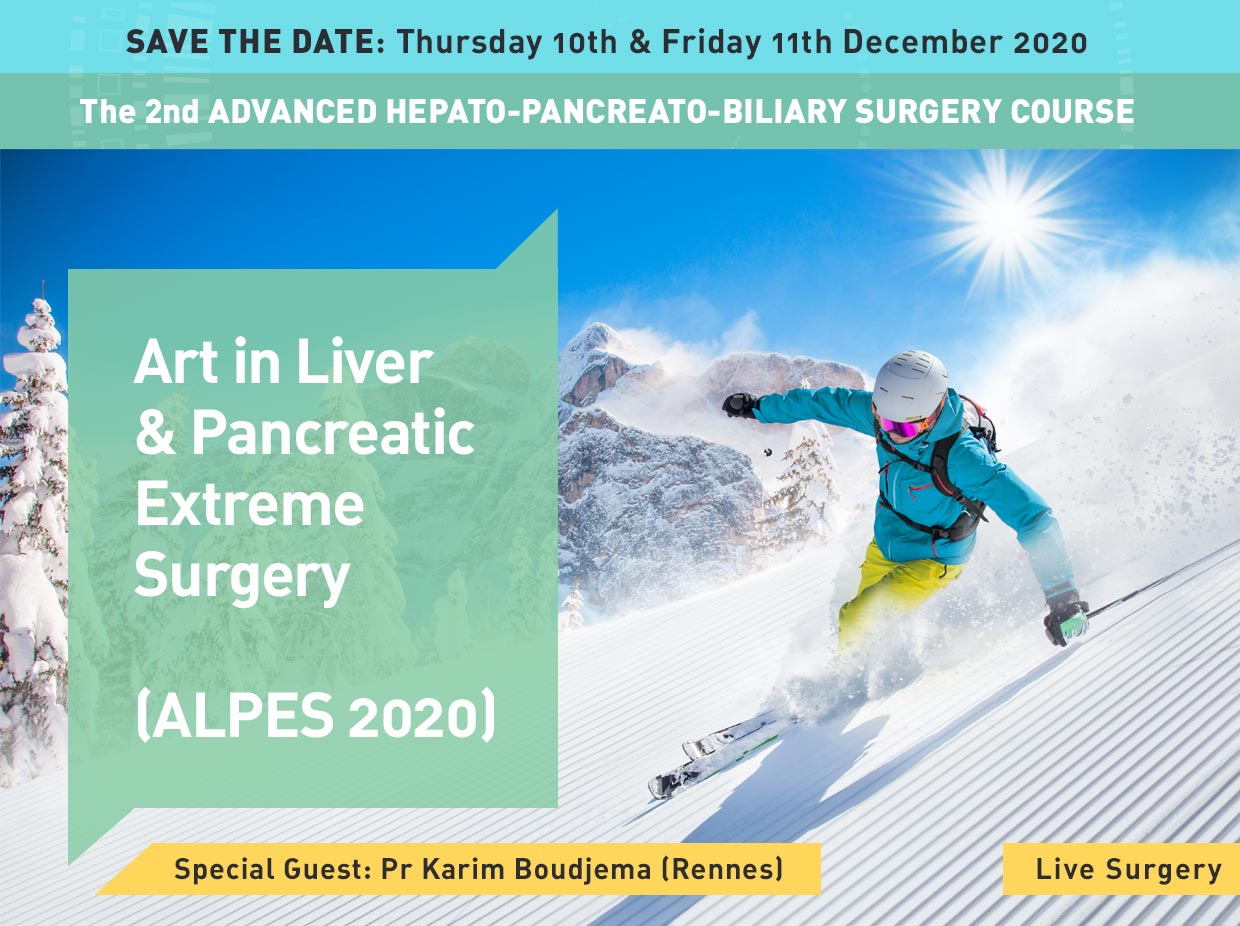 Dear Colleagues,
We would like to welcome you to the 2nd ADVANCED Hepato-Pancreato-Biliary (HPB) Surgery Course with LIVE: Art in Liver and Pancreatic Extreme Surgery (ALPES 2020) in Strasbourg.
The meeting will offer an invaluable opportunity to expand Professional knowledge and experience in one of the most beautiful Christmas City in Europe. The program provides a platform for delegates to exchange and discuss current research and innovations as well as learn from like-minded peers regarding the highest standards and outcomes of treatments for HPB disorders/cancers.
Sincerely,
Professor Philippe BACHELLIER
–
Download from the official web site www.chirurgiefoiepancreas.fr the Registration form
Registration contact : arianna.sparano@outlook.com

–
Pre-Program
Thursday 10th December 2020
Day 1
08H30 _ Welcome and registration of Participants
09h00 _ Welcome Participants introduction: Philippe BACHELLIER

09h15 – 13h00 _ Pancreas Session
« Live»  from the Operating Room:
PANCREATECTOMY WITH VASCULAR RESECTION
Moderators : Pietro ADDEO, Edoardo ROSSO
Preoperative, radiologic assessment of venous invasion before pancreatectomy.
(Radiologist, University Hospital, Strasbourg)

Pancreatectomy with venous resection after neoadjuvant chemotherapy: Got anything better?
(HPB and Liver Transplant Surgeon, University Hospital, Strasbourg)
Radiotherapy in resectable and locally advanced pancreatic cancer: Role and Results.
(Radiotherapist, University Hospital, Strasbourg)

How to properly manage endocrine and exocrine dysfunctions after pancreatectomy.
(Nutritionist, University Hospital, Strasbourg)
A 2 cm incidentally detected nonfunctional pancreatic neuroendocrine tumor: Resection versus observation.
(Specialist for Internal Medicine, University Hospital, Strasbourg)
13h00 _ Lunch Time
14h15 – 18h00 _ Video Session : "How I do it" and complex situations
Moderators : Pietro ADDEO, Edoardo ROSSO
Laparoscopic Pancreatoduodenectomy step by step (Edoardo ROSSO)
FREY Procedure for chronic pancreatitis
Middle Pancreatectomy
Pancreatoduodenectomy with venous resection
Laparoscopic splenopancreatectomy
Open discussion on clinical cases
Pre-Program
Friday 11th December 2020
Day 2
08H30 _ Welcome and registration of Participants
09h00 _ Welcome Participants introduction: Philippe BACHELLIER
09h15 – 13h00 _ Liver Session
« Live » from the Operating Room:
MAYOR HEPATECTOMY WITH VASCULAR RESECTION
Moderators : Pietro ADDEO, François FAITOT
Surgery for perihilar cholangiocarcinoma: "How I do it".
Special Guest: Professor Karim BOUDJEMA
( HPB and Liver Transplant Surgeon, University Hospital, Rennes)
How to obtain an optimal future liver remnant hypertrophy before major liver resection?
(Radiologist, University Hospital, Strasbourg)
Liver transplantation for acute-on-chronic liver failure: how to select the best candidate?
(HPB and Liver Transplant Surgeon, University Hospital, Strasbourg)
Liver transplantation, nutrition and metabolism.
Special Guest: Professor Karim BOUDJEMA
( HPB and Liver Transplant Surgeon, University Hospital, Rennes)

12h45 _ Lunch Time
14h00 – 15h30 _ Vidéo session : "How I do it" and complex situations
Moderators: Pietro ADDEO, François FAITOT
Liver resection with Vena Cava replacement

Hepatectomy for Klatskin tumor

Liver transplantation: challenging cases

Anterior approach for Right Hepatectomy
Portal Vein-resection during Hepatectomy

Open discussion on clinical cases
Conclusions – Philippe BACHELLIER
–
Download:
ALPES 2020: Art in Liver and Pancreatic Extreme Surgery, (Registration form)
ALPES 2020: Art in Liver and Pancreatic Extreme Surgery, (Pre-Program)